Huangpu District and Guangzhou Development Zone formed a 24-hour emergency working group stationed in the factory, and adopted the "one-to-one" staring at production, "one-to-one" to increase production capacity, and "one-to-one" guaranteed operation to solve the practical difficulties of enterprises.
"It is not easy to do this. The whole process is supported by multiple functional departments in the district and the upstream and downstream industry chains work together." Lin Xiaobo introduced that from February 6 to start technical breakthrough project to start mass production on February 10, general Lisi Technology Co., Ltd. is the first automatic mask machine in China that uses AI artificial intelligence, with more than 150,000 masks per day.
More than 70 scientific research enterprises and institutions in the zone have devoted all their efforts to tackling the epidemic prevention and control technology. Nearly 150 industrial enterprises are competing to speed up R & D and production, and comprehensively build an integrated epidemic prevention and control system of prevention, detection and treatment, becoming the main force in Guangdong Province.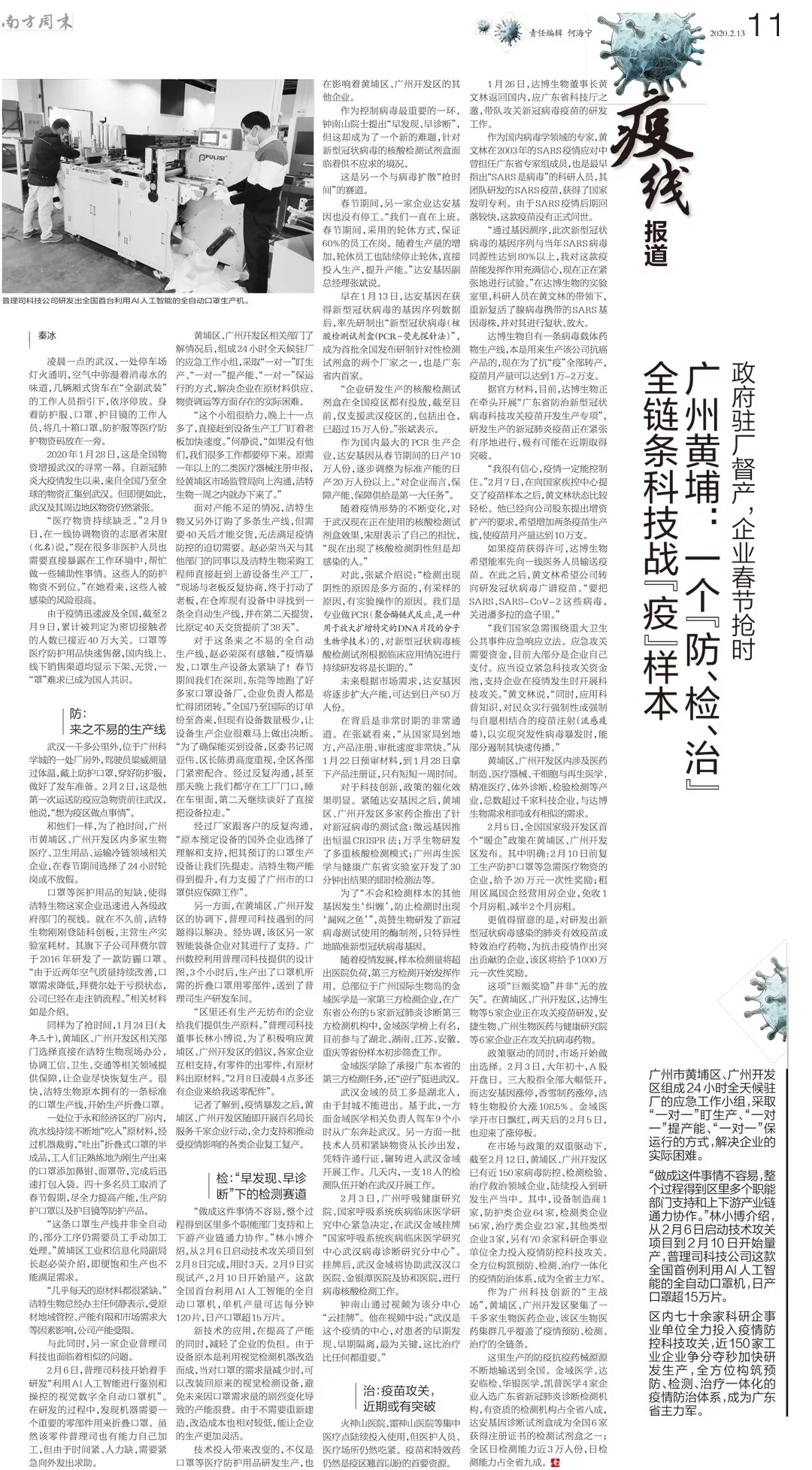 At 1 am in Wuhan, a parking lot was brightly lit and the air was filled with the smell of disinfectant water. Several vans were parked in order under the guidance of "fully armed" staff. Workers wearing protective clothing, masks and goggles put aside dozens of boxes of masks, protective clothing and other medical protective material codes.
January 28, 2020, this is an ordinary scene of the nation's material reinforcements in Wuhan. Since the outbreak of the New Coronary Pneumonia epidemic, materials from all over the country and the world have gathered in Wuhan. But even so, supplies in Wuhan and its surrounding areas are still tight.
"Medical supplies continue to lack." Song Tian (pseudonym), a volunteer who coordinated supplies at the frontline, said on February 9, "Now many non-medical personnel also need to be directly exposed to the work environment to help with some auxiliary things. The protective materials are not in place. "In her view, these people are at high risk of infection.
Due to the rapid spread of the epidemic throughout the country, as of February 9th, the cumulative number of people identified as close contacts has approached the 400,000 mark. Masks and other medical protective equipment are quickly sold out, and domestic online and offline sales channels have shown that they are out of stock and out of stock. It is a consensus among Chinese people that it is difficult to find a "mask".

Prevention-hard-won production line


More than a thousand kilometers away from Wuhan, outside a factory building in Guangzhou Science City, the driver Liang Wei measured his body temperature, put on protective masks, put on protective clothing, and was ready to start. On February 2, this was the first time he sent epidemic prevention emergency supplies to Wuhan. He said, "I want to do something for the epidemic area."
Like them, in order to grab time, many related companies in the field of biomedical, hygiene products, and transportation cold chain in Huangpu District and Guangzhou Development Zone chose to rotate or not take a holiday for 24 hours during the Spring Festival.
The shortage of masks and other medical supplies has made Jiete Biological quickly enter the sight of government departments at all levels. Not long ago, Jiete Biology has just landed on the science and technology board, mainly producing laboratory consumables. One of its subsidiaries, Beaver, developed a haze mask in 2016. "Due to the continuous improvement of air quality in the past two years, the demand for masks has been reduced, and Byfair is in a state of loss. The company is already going through the cancellation process." Related materials are introduced.
Also in order to seize the time, on January 24 (New Year's Eve), the relevant departments of Huangpu District and Guangzhou Development Zone chose to work directly on the site of Jiete Biology, coordinate the provision of guarantees in related fields such as industrial credit, health, transportation, etc. produce. Soon, a standard mask production line originally owned by Jitter Bio started production of folding masks.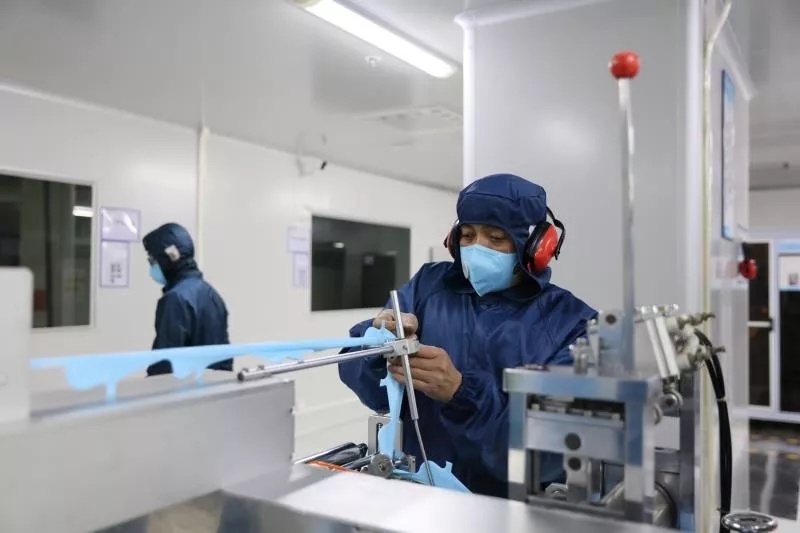 ▵ Time to grab! Jiete Biological Company quickly activated the mask production line to fill the market gap
In a factory building in the Yonghe Economic Zone, the assembly line continually "eats" the raw materials, cuts it through the machine, and "spits out" the semi-finished products of the folding mask. The workers are skilled in adding nasal pliers and mask bands , And quickly pack it into a bag after completion. More than forty employees canceled the Spring Festival holiday, tried their best to increase production capacity, and produced protective masks, goggles and other protective products.
"This mask production line is not fully automatic, and some processes still require manual processing by employees." Zhao Birong, deputy director of the Huangpu District Industry and Information Bureau, said that even saturated production cannot meet demand.
"Almost every day there is a shortage of raw materials." Jie Jing, the general manager of Jiete Bio, said that the company's production capacity is limited due to factors such as raw material geographic control, limited production capacity and large market demand.
At the same time, another company, Prius Technology, is facing similar problems.
On February 6, PRISTECH started to develop the "visual digital automatic mask machine using AI artificial intelligence for identification and manipulation". During the development process, it was discovered that the machine needed an important part to fold the mask. Although the parts are also capable of being processed by themselves, due to time constraints and lack of manpower, urgent requests for help are required.
After the relevant departments of Huangpu District and Guangzhou Development Zone understood the situation, they formed a 24-hour emergency working group stationed in the factory, adopting the "one-to-one" production staring, "one-to-one" capacity increase, and "one-to-one" guarantee operation. Solve the practical difficulties of enterprises in the supply of raw materials and the transportation of materials.
"This team is very powerful. It's more than 11 o'clock in the evening. I rushed to the equipment production plant and stared at the boss to speed up." He Jing said, "Without them, we have to stop a lot of work. It took more than a year for two years. The registration application for medical devices of the same category was communicated upwards by the Huangpu District Market Supervision Bureau, and Jiete Biological was completed within a week. "
Facing the shortage of production capacity, Jiete Biology has additionally ordered multiple production lines, but it will take 40 days before delivery, which cannot meet the urgent needs of epidemic prevention and control. Zhao Birong rushed directly to the upstream equipment production plant with colleagues from other departments and Jiete Biological Purchasing Engineers on the same day, "After repeated consultations with the boss on the spot, he finally moved the boss and found a fully automatic production line among the existing equipment in the warehouse. Pick up the goods every day, 38 days ahead of the original 40 days delivery. "
For this hard-won automatic production line, Zhao Birong was deeply touched, "The outbreak of the epidemic, the mask production equipment is too scarce! During the Spring Festival, we ran a lot of mask equipment factories in Shenzhen, Dongguan and other places, the business leaders are busy There is a lot of change. "Orders from all over the country and even international are coming in one after another, but the number of existing equipment is very small, making it difficult for equipment manufacturers to make a decision immediately. "In order to ensure that equipment can be bought, District Party Secretary Zhou Yawei and District Mayor Chen Yong attach great importance to it and all departments in the district cooperate closely. After repeated communication, we even stayed at the factory door that night and slept in the car. When you have finished talking, just pull the device away. "

After repeated communication between manufacturers and customers, "foreign companies that originally booked equipment chose to understand and support, let us take away the mask production equipment they booked. Jiete biological production capacity was improved, which strongly supported the guarantee of mask supply in Guangzhou jobs".

On the other hand, under the coordination of Huangpu District and Guangzhou Development Zone, the problems encountered by Prysmian Technology have been resolved. After coordination, another intelligent equipment company in the region supported it. Guangzhou CNC used the design drawings provided by Prius Technology, and after 3 hours, produced the folding mask parts needed for the mask machine and sent them to the Prius production R & D workshop.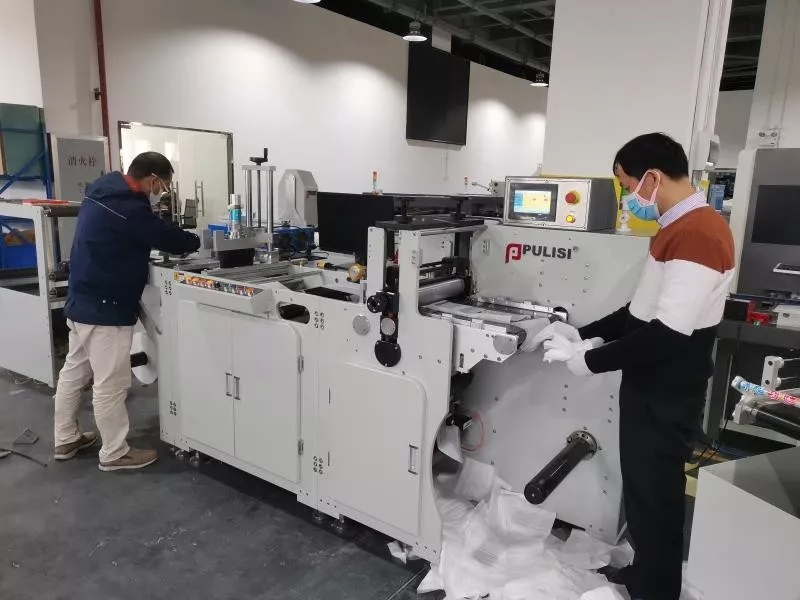 ▵Pristech has developed the country's first fully automatic mask production machine using AI artificial intelligence. The picture shows the debugging equipment


"There are also non-woven fabric companies in the district that provide us with raw materials for production." Lin Xiaobo, chairman of Prysmian Technology, said that in order to actively respond to the initiatives of Huangpu District and Guangzhou Development Zone, various enterprises supported each other and produced parts There are raw materials out of raw materials. "More than 4 o'clock in the morning on February 8 there are companies to send me spare parts."
The reporter learned that after the outbreak, the Huangpu District and the Guangzhou Development Zone immediately launched an action of 100 directors serving thousands of enterprises, and fully supported and promoted the resumption of production of various enterprises affected by the outbreak.
Inspection-the detection track under "early discovery, early diagnosis"
"It is not easy to do this. The whole process is supported by multiple functional departments in the district and the upstream and downstream industry chains work together." Lin Xiaobo introduced that it took 3 days from the start of the technical breakthrough project on February 6 to completion on February 8. . Trial production was achieved on February 9 and mass production began on February 10. This is the first automatic mask machine in the country that uses AI artificial intelligence. The output of a single machine can reach 120 pieces per minute, and the daily output of masks exceeds 150,000 pieces.
The application of new technologies, while increasing production capacity, has reduced the burden on enterprises. Since the equipment was originally transformed with visual inspection machines, when the demand for masks decreases, it can be converted back to the original visual inspection equipment to avoid future waste of capacity due to dramatic changes in mask demand. Because there is no need to rebuild, the cost of renovation is relatively low, which allows the enterprise to be more flexible in production.
Changes in technology investment have not only affected the R & D and production of masks and other medical protective equipment, but also affected other enterprises in Huangpu District and Guangzhou Development Zone.
As the most important part of virus control, academician Zhong Nanshan proposed "early detection and early diagnosis", but this has become a new problem. The nucleic acid detection kits for new coronaviruses are in short supply.
This is another racetrack that "spreads time" with the spread of the virus.
During the Spring Festival, another company, Da'an Gene, did not stop working. "We have been working. During the Spring Festival, the rotation method used to ensure that 60% of the employees are on duty. With the increase in production, the rotation employees have also stopped the rotation and put into production directly to increase production capacity." Zhang, deputy general manager of Daan Gene Bin said.
As early as January 13, after obtaining the gene sequence data of the new coronavirus, Daan Gene took the lead in developing the "new coronavirus (nucleic acid detection kit (PCR-fluorescent probe method)", which became the first national release One of the two manufacturers of sex test kits is also the first in Guangdong Province.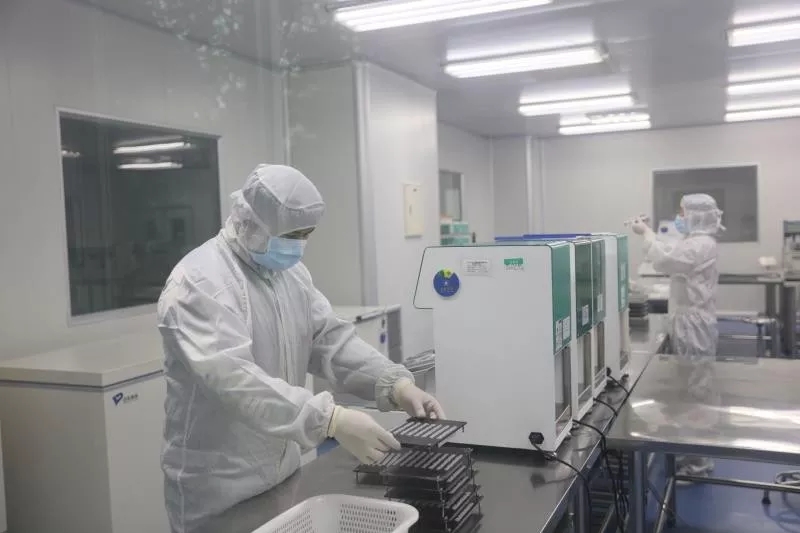 ▵Da'an Gene Co., Ltd. took the lead in developing the "New Coronavirus Nucleic Acid Detection Kit (PCR-Fluorescent Probe Method)", becoming one of the first two manufacturers to release and develop targeted detection kits nationwide
"Nucleic acid detection kits developed and produced by the company have been put in the epidemic areas nationwide. Up to now, only the Wuhan epidemic areas have been supported, including out of warehouses, which has exceeded 150,000 copies." Zhang Bin said.
As the largest PCR manufacturer in China, Da'an Gene has gradually adjusted from a daily production of 100,000 servings during the Spring Festival to a standard production capacity of more than 200,000 servings. "For enterprises, ensuring production capacity and ensuring supply are the first major tasks."
As the epidemic situation continues to change, Song Tian expressed his concern about the effectiveness of the nucleic acid detection kits currently in use in Wuhan. "There are now people with negative nucleic acid tests but infected."
In this regard, Zhang Bin said: "There are many reasons for the negative test, there are reasons for sampling, there are reasons for experimental operation. We are specialized in PCR (polymerase chain reaction, is a kind of amplification for amplification Specific molecular technology of DNA fragments), the continuous development of new coronavirus nucleic acid detection reagents based on clinical application will be long-term. "
In the future, according to market demand, Daan Gene will gradually expand its production capacity to reach 500,000 people per day.
Behind it is the extraordinary passage of the extraordinary period. In Zhang Bin's view, "from the National Bureau to the local, product registration and approval speed is very fast." From the pre-examination materials on January 22, to obtaining the product registration certificate on January 28, only one week.
For technological innovation, the catalytic effect of the policy is obvious. Immediately following Daan Gene, many pharmaceutical companies in Huangpu District and Guangzhou Development Zone launched test kits for the new coronavirus: Weiyuan Gene launched a constant temperature CRISPR method; Wanfu Biotech developed a multiple nucleic acid detection model; Guangzhou Regenerative Medicine and Health Guangdong The provincial laboratory has developed a real-time detection method with results in 30 minutes.
In order to "not be entangled with other genes in the test sample and prevent the" leakage of the net "during the test, Yingzan Bio has developed the enzyme preparation used in the new coronavirus test, only targeting the new coronavirus genes specifically.
With the development of the epidemic situation, the amount of sample testing will exceed the hospital load, and third-party testing will come into play. Jinyu Medical, headquartered in Guangzhou International Biological Island, is a third-party testing company. Among the 5 new third-party diagnostic institutions for diagnosis of coronary artery pneumonia announced by Guangdong Province, Jinyu Medical is listed on the list and currently participates in Hubei, Hunan, Jiangsu, Anhui , Chongqing and other provinces preliminary screening work.
In addition to undertaking third-party testing tasks in Guangdong Province, Jinyu Medicine also "retrograde" into Wuhan.
Most of Wuhan Jinyu 's employees are from Hubei, and cannot enter or leave due to the closure of the city. Based on this, on the one hand, the relevant person in charge of Jinyu Medicine drove from Guangdong to Wuhan for 9 hours. On the other hand, a group of technicians and materials in short supply started from Changsha, and with the concessionary pass, they moved into Wuhan Jinyu for work. Within a few days, an 18-person testing team began to work in Wuhan.
On February 3, the Guangzhou Respiratory Health Research Institute and the National Respiratory Disease Clinical Medicine Research Center made an emergency decision to list the "National Respiratory Disease Clinical Medicine Research Center Wuhan Virus Diagnostics Research Center" in Wuhan Jinyu. After listing, Wuhan Jinyu will assist Wuhan Hankou Hospital, Jinyintan Hospital and Union Hospital to conduct viral nucleic acid testing.
Zhong Nanshan "cloud listing" the sub-center through the video. He said in the video: "Wuhan is the center of this epidemic. It is the most important for the early detection and early isolation of patients, which is more important than treatment."
Governance-vaccine research
Centralized medical points such as Vulcan Hill Hospital and Raytheon Mountain Hospital have been put into use one after another, but medical personnel and medical facilities are still tight. Vaccines and special-effect medicines are still the most anticipated resources in the epidemic area.
On January 26, Huang Wenlin, chairman of Dubbo Biotech, returned to China and was invited by the Guangdong Provincial Department of Science and Technology to lead the research and development of the new coronavirus vaccine.
As an expert in the field of virology in China, Huang Wenlin was a member of the expert group of Guangdong Province in the SARS outbreak response in 2003. He was also the earliest researcher who pointed out that "SARS is a virus". The SARS vaccine developed by his team won a national invention patent. As the SARS epidemic fell back quickly, this vaccine was not officially released.
"Through genetic sequencing, the gene sequence of this new coronavirus is more than 80% homologous to the SARS virus that year. I am confident that this vaccine will work, and I am now experimenting intensively." In the room, under the leadership of Huang Wenlin, scientific researchers reactivated the SARS gene strain carried by adenovirus, and reproduced and amplified it.
Dubbo has its own virus vector drug production line, which was originally used to produce the company's anti-cancer products. Now, in order to resist the "epidemic", all the vaccines are produced, and the monthly output of vaccines can reach 10,000-20,000.
According to official information, at present, Dubbo Biotech is taking the lead in the "Development and Production Special Project of Guangdong Province for the Prevention and Treatment of New Coronavirus Technologies". The new coronary pneumonia vaccine developed and produced is under intense and orderly progress, and it is very likely that a breakthrough will be achieved in the near future.
"I'm very confident that the epidemic will be controlled." On February 7, after submitting vaccine samples to the National Center for Disease Control, Huang Wenlin was in a relatively relaxed state. He has already requested the company's shareholders to increase capital and expand production, hoping to add two vaccine production lines, so that the monthly production of vaccines will reach 100,000.
If the vaccine is approved, Dubbo hopes to deliver the vaccine to the frontline medical staff first. After this, Huang Wenlin hoped that the company would turn to the development of a broad-spectrum coronavirus vaccine. "Put the SARS and SARS-CoV-2 viruses in Pandora's box."
"Our country urgently needs legislation on emergency response to major public health incidents. Emergency tackling requires funds, and most companies currently pay for themselves. An emergency science and technology tackling fund pool should be set up to support enterprises to carry out science and technology tackling when an outbreak occurs. To apply popular science knowledge and implement mandatory or compulsory and voluntary vaccination (influenza vaccine) to the people, so as to achieve a sudden virus outbreak and partially curb its rapid spread. "
The Huangpu District and the Guangzhou Development Zone are involved in industries such as pharmaceutical manufacturing, medical devices, stem cells and regenerative medicine, precision medicine, in vitro diagnostics, inspection and testing. The total number exceeds 1,000 technology companies, which have the same or similar needs as Dubbo.
On February 5, the first national "warm enterprise" policy of national development zones was released in Huangpu District and Guangzhou Development Zone. Among them, it is clear that enterprises that resume production of protective masks and other urgently needed medical materials before February 10 will be given a one-time reward of 200,000 yuan; the renting area is a state-owned enterprise operating a house-using enterprise, which is exempt from 1 month's rent and halved 2 months' rent.
What is more noteworthy is that, for companies that have developed new coronavirus-infected pneumonia effective vaccines or special treatment drugs and made outstanding contributions to fighting the epidemic, Huangpu District and Guangzhou Development Zone will give a one-time reward of 10 million yuan.
This "huge reward" is not "targetless." In Huangpu District and Guangzhou Development Zone, 5 companies including Dubbo Biotech are working on vaccine research and development, and 6 companies including Anjie Biotech and Guangzhou Institute of Biomedicine and Health are working on antiviral drugs.
While driven by policy, the market began to make choices. On February 3, the 10th day of the New Year's Day and the opening day of the A-shares, all three major stock indexes opened sharply lower, while Daan Gene's daily limit, Xiangxue Pharmaceutical's daily limit, and Jiete Bio's share price rose 108.5%. Jinyu Medical's opening day became popular, and on February 5 two days later, it also ushered in a daily limit.
Driven by the dual drive of market and policy, as of February 12, nearly 150 companies in the field of virus prevention, control, testing, inspection and treatment in the Huangpu District and Guangzhou Development Zone have successively invested in R & D and production. Among them, there are 1 equipment manufacturer, 64 protection enterprises, 56 detection enterprises, 23 treatment enterprises, 3 other types of enterprises, and more than 70 scientific research enterprises and institutions fully committed to epidemic prevention and control technology research. Constructing an integrated epidemic prevention system with prevention, detection and treatment in all directions has become the main force in the province.
As the "main battlefield" of Guangzhou's technological innovation, more than a thousand biopharmaceutical companies have gathered in Huangpu District and Guangzhou Development Zone, and the biomedical cluster almost covers the entire chain of epidemic prevention, detection and treatment.
The anti-epidemic and anti-epidemic drugs produced here are continuously delivered to the whole country. Four companies including Jinyu Medicine, Da'an Clinical Inspection, Huayin Medicine, and Cap Medical were selected for the Guangdong New Coronary Pneumonia Diagnosis and Testing Agency. Qualified testing institutions accounted for 80% of the province's total. One of the testing kits for the certificate; the daily testing capacity of the district is nearly 30,000, and the daily testing capacity accounts for 90% of the province.
Source 丨 Southern Weekend